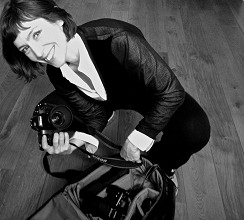 About
Nicola studied at Harrow College of Art and then continued her photographic training while working as a photographer's assistant.
She joined the London Newspaper Group in 1998 and soon became their chief photographer. After some years she left in order to pursue a freelance career, and has since become highly-regarded for her portrait work.
She works almost exclusively on black and white film. Her rigorous method infuses her work with a rare purity and authenticity. She delivers human expression and emotion unmediated by the trickery of the digital age.
Nicola's printer is Bob Wiskin. He has been one of the country's foremost film printers for a number of decades and works regularly for, among others, David Bailey and Bruce Weber.
Nicola Bensley's work has appeared in a wide variety of publications, from The Guardian to Red Magazine, Forbes to The Chapar.
She exhibits regularly in London, most recently at the iconic French House in Soho, with a show of portraits of painter Frank Auerbach and actor Peter Mullan.

Hand of Frank Auerbach has been nominated for the Fine Art prize in the prestigious International Black and White Spider Awards 2016.
The British Journal of Photography ran a feature on her work in October 2016.
http://www.bjp-online.com/2016/10/any-answers-monochrome-portrait-photographer-nicola-bensley/