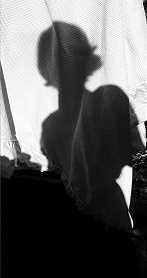 About Nicola Bensley
Nicola Bensley is well known both for her portrait work ('Maggi Hambling On Her Studio Floor', shortlisted for Taylor Wessing Portrait Prize 2017; Honourable Mention, International Black and White Spider Awards 2017) and her authored artwork ('Leap, Westbourne Grove', 'Recline', both accorded Honourable Mention, International Black and White Spider Awards 2017).
Descend, Tyyburn Convent awarded Honourable Mention in the 2019 International Black & White Spider Awards (silhouette)
(Winners book: https://www.thespiderawards.com/winnersbook/WB2020V2/thespiderawards-winnersbook2020vol2.html)
Nicola has for many years now been refining her vision and aesthetic, shooting exclusively on black and white film using only available light.
Her printer is the legendary Bob Wiskin. He has been one of the country's foremost film printers for a number of decades.
Nicola's work has appeared in a wide range of publications, from The Guardian to Red Magazine, Forbes to The Chapar.
She exhibits regularly in London. Nicola is also a prolific photographer of commissioned portraits for private clients.
After art school Nicola assisted a commercial photographer before working as a photojournalist. She has been freelance for the past fifteen years, and lives in West London with her family.
CURRENT WORK:
- Old Boys Football Feature:
a photographic story for Issue 12 of lifestyle football magazine
Mundial
.
- Dancer Collaboration:
an ongoing project, now preparing for the
London Art Fair
in November.
SALES:
Of silver gelatin handprints, mounted and framed on request, order from Nicola's Limited Editions here on the website - prices available on application.
Rose Uniacke, interior designer, said of Colander: "Extremely beautiful - so strong and atmospheric and tender all at the same time."
PRIVATE PORTRAIT SHOOTS:
Please contact Nicola directly to book a portrait shoot. The routine is simple: a natural light session at an agreed location or studio, followed a couple of days later by a meeting with Nicola to make a selection to print from the contact sheets. The prints are available in a variety of sizes, mounted and framed on request.
darkroom@nicolabensley.com
"What's clever about Nicola Bensley's portraits is that as well as being charming and brilliantly observed, they are lovely things in themselves - cool and elegant." Hugh Grant, actor.
REPRESENTED by
Candida Stevens Gallery candidastevens.com
Boecho Gallery DeeGray@boecho.com
For commercial and editorial commissions - please contact Amanda G at Coochie Hart amanda@coochie-hart.com
The British Journal of Photography feature:
http://www.bjp-online.com/2016/10/any-answers-monochrome-portrait-photographer-nicola-bensley/